Payoneer is a money transfer company, similar to PayPal, that allows you to receive and send money from other countries. Payoneer offers a US bank account and other country accounts, which can be used to receive money transfers from various countries, as if you were in that country. You can also set up when you want the money to be transferred to your account. The fees for Payoneer vary compared to PayPal.
Regarding Payoneer's fees
Receiving money:
FREE = If receiving money between Payoneer accounts (USD, EUR, GBP, JPY)
FREE = If receiving money via direct deposit from a bank account for currency: EUR | GBP | JPY | AUD | CAD | CNY
1% Fee = If receiving money via direct deposit from a bank account for currency: USD
If you sign up through the link below, you will not have to pay the 1% fee.
Withdrawing money:
Withdrawing money to a local bank account Fee: 2%
*Special Bonus : For those who click on the link below to sign up, you will receive a fee reduction for withdrawing money, only 1% fee.
Step-by-Step How to register for Payoneer account
Please click on this button only to receive the $35 bonus. If you go directly to the website, payoneer.com you will not receive the bonus.
2. Then, click on Signup & Earn $35. You will receive $35 when you have a transfer of $1,000 within 6 months. Note that you will not receive it immediately.
*The transfer must be from financial transactions only. Don't tell your friends to transfer money to you, it will not count.
3. Next page, please enter as an individual and then enter your first and last name, email, and birthdate, then click next.
4. After that, please enter your address and phone number. It must be a real phone number, no need to enter the 0 in front of the number, for example 0891111111, just enter 891111111
5. Then, please enter your password, which must be at least 7 characters long and must include numbers or letters. Then, set a secret question to confirm your identity. Don't forget to save it. This step is very important because you need it when withdrawing money and then select the national id and enter the ID card number or if you will use the passport, please select passport.
6. Select the bank, enter the name, and account number, you can add and edit the account later. Then press submit.
Receiving Payment
1. Go to Receive –> Global Payment Service
2. The system will display the account with various information, click on the "view detail" at the currency that we will receive, to access the account number and transfer details.
3. Transfer details will be in the form of the image below, we can send this information to the person who is transferring the money.
*Only accept transfers from company accounts, not from individuals.
Withdrawing Money
1. Log in and select Withdraw, then choose the currency you want to withdraw.
2. Click Next.
3. enter the amount you want to withdraw and click review.
4. The system will display the amount, which will include a 1.2% fee, and the amount that will be deposited into your account. Click withdraw. The bank's exchange rate will be applied.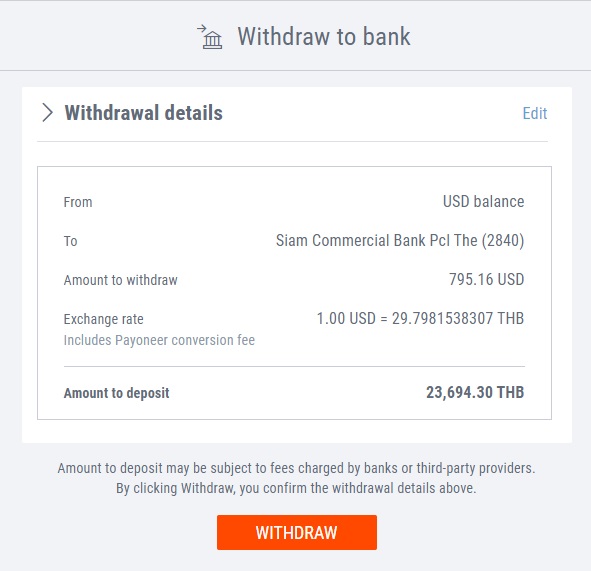 5. Next, the system will check for security by sending an SMS to your mobile phone. If you do not want to be verified again in the future, select "Don't Ask for a Code" and click submit.
6. Wait 1-3 business days for the money to be deposited into your bank account.
Payoneer: Proof of address submission
The submission of Proof of Address documents for Payoneer can be done using the following documents.
– Water and electricity bills, credit card bills, home internet bills (mobile phone bills cannot be used)
– Bank Statement documents from a bank, which can be obtained from the bank or printed out must have your address on it.
– The documents must have the name and address that matches the account registration and the document's age must not exceed 3 months.
– For company accounts, the documents must have the company name and address, which can be used with the business registration.
– No additional writing or editing is allowed in the documents, no crossing out or anything.
– Paper documents must be photographed, and the image must be of the actual document, showing all four corners of the paper, and the size must be larger than 1MB
– e-statement must be sent in a PDF format.
How To Use and Request a Payoneer Debit Card
The benefits of using a Payoneer card system include the ability to pay for online purchases such as products, advertising fees, and various services with a debit card, which saves on expenses without having to exchange currencies multiple times since we can use the USD balance in our account directly linked to the debit card. For example, buying goods on Ali-express, paying for advertising on Facebook, and so on.
We can choose the type of card we want to use between a solid card that can be swiped in stores or withdrawn from ATMs, but will incur fees similar to using a foreign card, or a virtual card for online purchases only, with an annual fee of $29.95 only.
Applying for a Payoneer card for people who have never had a Payoneer card
1) Have at least $100 in account balance obtained from various online marketplaces. Except for transfers between Payoneer accounts
2) Verify identity and address by sending a copy of the original photo of the ID card and proof of address such as water bills, electricity bills, utility bills, bank statement, credit card statement
3) Place a card order in your Payoneer account.
4) Contact the Payoneer Support Team to get a Virtual Card.
5) When the card is received into the account, press Activate to use.

Summary: I have tried using Payoneer for a while and it is much easier to use than PayPal. It also accepts money from various sources globally. I haven't used the credit card feature as I haven't signed up for it.
FAQ: Payoneer
What is Payoneer?
Payoneer is a payment platform that facilitates international money transfers through Direct Deposit by creating an account in our name. We can then use this account to receive money from anywhere in the world.
What currencies does Payoneer accept?
Currently, Payoneer accepts 7 currencies: USD, EUR, GBP, JPY, AUD, CAD, and MXN.
Who can I receive money from with Payoneer?
We can only receive money from corporations, not from individual individuals.
Can I receive money from other Payoneer accounts without paying any fees or being a corporation?
Yes, we can receive money from other Payoneer accounts without incurring any fees and without being a corporation.
---
Read How to sign up for Payoneer in other languages
---